Do you have an excellent dog walker? Do you trust them 100% with your dog daily? Do you often question whether your dog is getting the proper care and attention they need? Well, if so you've come to the right place!
So what does, in fact, make a great dog walker? What are the qualifications your dog walker must have? Luckily, Jason Metzger, founder of the company Wag offered some of his personal advice. He believes "passionate dog walkers take photos from their adventures and are excited to share them with you. Passionate dog walkers take pride in what they're doing and it shows in the dogs they walk."
Here are several other traits dog walkers must possess.
4. Experience
Wag looks for dog walkers with experience as a pet professional. Our dog walkers are Registered Veterinary Technicians, Shelter Volunteers, foster parents, dog groomers, dog trainers or have their own dog walking small business. An experienced pet professional will know how to make the dog walk fun. With experience dog walkers know to bring all natural treats, how to deal with the sluggish dog and how much energy each breed needs.
3. Thorough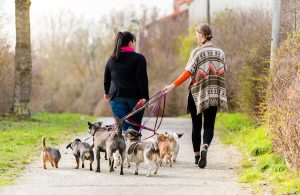 A good dog walker must be thorough in carrying out their duties. Dog owners will leave notes for the dog walker on health issues, triggers and preferences regarding their pets. A great dog walker makes sure to read all notes left from the owner before beginning the walk. The last thing you want is to have a dog walker who does not follow instructions to the T. When you leave notes that the dog must be created after the walk and the walker missed this detail and you come home to your Jimmy Choos all chewed up. For the fellas, it's like coming home to find a signed Michael Jordan jersey ripped up.
2. Accountable
A dog walker has to be accountable as the dog's health and well being are in his/her control. Professional dog walkers always show up at the desired time and place and are responsible for bringing the dog home safe. Accountable dog walkers use calendars with set reminders to keep track of their schedule. Here is a tip, you can sync your scheduled walks in your calendar with Waze which provides traffic data. Waze will alert you of when you need to leave in order to make it to your dog walk on time.
1. Dependable
A dependable dog walker will go the extra mile to make sure the dog receives a safe and enjoyable walk. They will stop at nothing to get to your dog on time and deliver an amazing service to your family each and every time. Dog walkers should have a postman mentality, they go no matter if it's rain, sleet, snow or shine. A passionate dog walker will never cut a dog walk short unless it's an emergency.